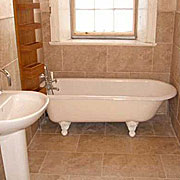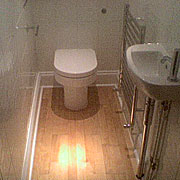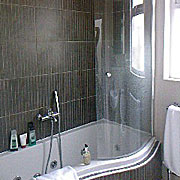 Bathroom Fitters in North London
Your bathroom is one of the most important rooms in your home. It's where you spend hours making yourself look beautiful or just relaxing after a hard day. That's why getting the best look in your bathroom can make all the difference in your home. It will also add value to your property in case you decide to sell. We are expert bathroom fitters and are located conveniently in North London.

We'll advise on and install all bathroom furniture, bathroom flooring, ceramic tiling and bathroom lighting to the highest standards, leaving you with a bathroom you'll be proud to splash around in. We will help you to make the most of available space. The work will be carried out with the minimum of fuss, and without the need to sub-contract which results in a more efficient bathroom fitting service with shorter lead times and just one point of contact.

With A&B BUILDERS & DECORATORS you're not limited to buying from a single bathroom range, you are free to shop around. This means you can cut out the "middle man" saving yourself hundreds of Pounds. From our experience we know, that big bathroom shops will charge you about double the price of the labour, compared to using our services. Quality is what we care about, so we are never happy with the job until you are.

We undertake the fitting of both traditional bathroom designs and new contemporary styles. We'll work with you from design and planning through to installation. For your peace of mind our kitchen and bathroom installations are covered by 36 months workmanship guarantee.