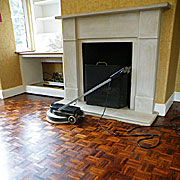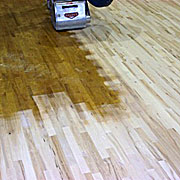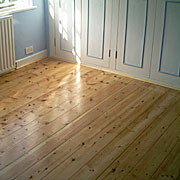 Floor Sanding
Many people don't know they have a real treasure hidden underneath their carpets. So, let's say you decide to replace yours (or for any other reason you lift the existing one) and find original floorboards. You start thinking, "I like the look of it, but I'm not sure it's worth doing". It's the right time to give A&B BUILDERS & DECORATORS a call.
We can inspect your floor, advising about its condition and possible solutions as well as giving you a detailed quotation for carrying out the work. And it's all free of charge with no strings attached. If we think it won't look good enough, we won't tell you it will, just to get the job.
If some of the floorboards need replacing, we will go the extra mile to arrange for reclaimed original boards. You may worry the floor will get draughty. You shouldn't. We can fill the gaps, or if they're too wide, we use wooden slivers. We will advise you which finish to choose. Stain, varnish, oil or white wash - we do it all.
The machines we use are virtually dust-free so mess is not a concern. Of course after the work is done we will clean away all the rubbish, including your old carpet.
Our extensive portfolio can give you an idea of what can we achieve working with your existing floorboards.
Please visit our gallery to see some of the results.